Pattaya is 147 kilometers southeast of Bangkok, facing the Gulf of Thailand. It is Asia's premier beach destination attracting families, couples and single visitors. Pattaya's relaxing tropical ambience offers every ingredient for memorable holidays. Accommodation ranges from luxurious hotels with superb convention facilities to simple guesthouses.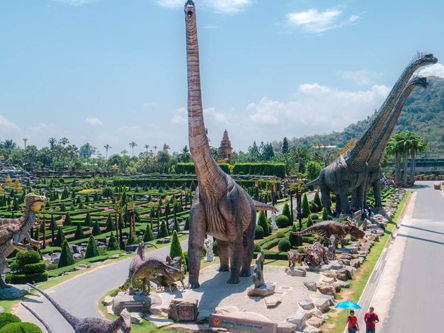 Nong Nooch Tropical Garden
Nong Nooch Garden is set in a 2.4sq.km. beautifully landscaped park and can easily make an all-day trip. The entire area is more like a theme park, with daily cultural shows, restaurants and accommodation as well as a vast area showcasing individually themed gardens. A leisurely stroll through the botanical park is like taking a journey around the world, through its many famous gardens, whether 17th-century French garden, Stonehenge, or European Renaissance garden. Equally fascinating are species-specific gardens, such as cactus and succulent plants, orchid nurseries, tropical palm gardens, bonsai and topiary garden.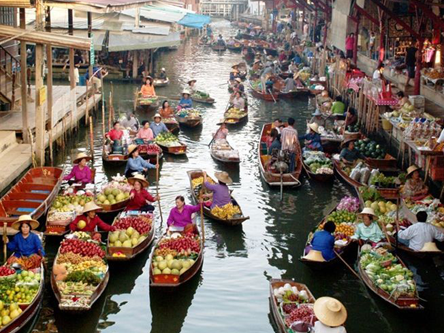 Pattaya Floating Market
Correctly known as the "Four Regions Floating Market", the sub-sections of this 100,000sqm development represent the four major areas of Thailand – the north, northeast, central and south. This representation comes in the form of shops and stalls selling souvenirs, fruits, food, art, handicrafts, postcards and clothing as well as regular cultural shows and demonstrations. Some of the 114 vendors do indeed float, selling their wares from traditional boats and canoes. The rest are built into a sturdy stilted village, with covered walkways and stout bridges connecting them.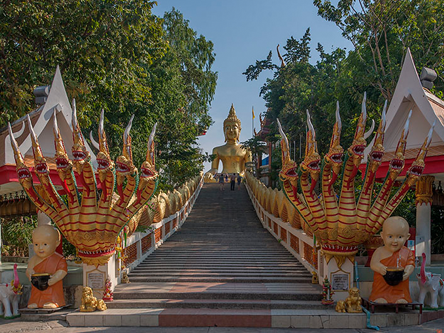 Wat Phra Khao Yai
The so-called "Big Buddha" certainly deserves its name, being the biggest in the region at 18 metres in height. Positioned nearly 100 metres above sea level, it watches over Pattaya and Jomtien Beaches from its position on the hill dividing the two. The temple complex around the highly detailed golden seated Buddha creates a reflective mood in its many visitors thanks to its many bells, burning incense, numerous smaller statues and impressive views over the area. Not just tourist attraction, the site is an active temple, with locals frequently visiting to pray.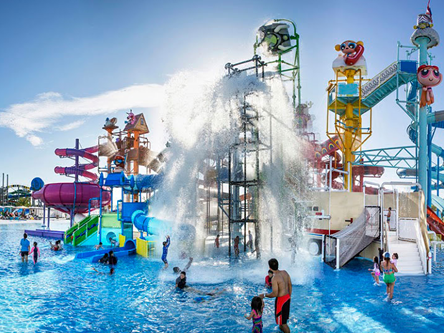 Cartoon Network
Cartoon Network Amazone Waterpark near Pattaya is larger and more spectacular than anything of its kind in Thailand, with 30 state-of-the-art water rides and slides and other attractions including Disneyworld-style mascots, entertainment shows, a food court with many regional food types and all-round aquatic fun for the whole family. The park is logiclly split into sections catering to smaller children and teens and fully-grown children with families of their own. Located on Sukhumvit Road about 20 minutes drive from Pattaya Beach, there are 10 entertainment zones, featuring characters such as Ben 10, The Powerpuff Girls, Gumball, Darwin and others from popular shows on Cartoon Network. There is enough to do to keep the whole family occupied for an entire day, including the Surfarena (a flowrider which recreates a perfect breaking wave for surfing) and Mega Wave (which simulates the more gentle waves of the nearby sea, only without the riptides, jellyfish and hidden rocks).