Chiang Mai is the hub of Northern Thailand and the Capital City of the Province of this name. Located on a plain at an elevation of 316 m, surrounded by mountains and lush countryside, it is much greener and quieter than the capital, and has a cosmopolitan air and a significant expat population, factors which have led many from Bangkok to settle permanently in this "Rose of the North".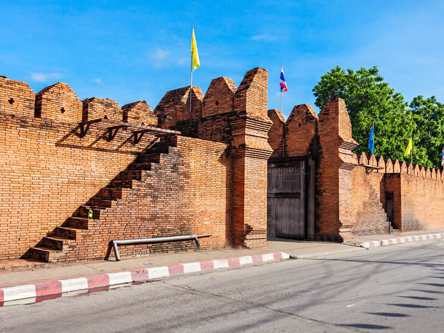 Tha Phae Gate
Tha Phae Gate is one of the most famous landmarks in Chiang Mai. Located on the eastern side of the wall, it is one of the gates to enter the Old City. The other gates are Chang Phuak Gate, Chiang Mai Gate, Suan Dok Gate, and Saen Pung Gate.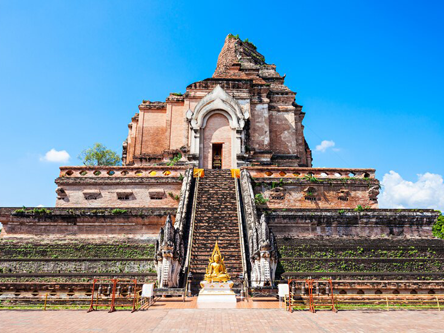 Chedi Luang Temple
Wat Chedi Luang is a Buddhist temple in the historic centre of Chiang Mai, Thailand. The current temple grounds were originally made up of three temples — Wat Chedi Luang, Wat Ho Tham and Wat Sukmin.
Wat Inthrawat
Wat Inthrawat (วัดอินทราวาส), also known as Wat Thon Kwain (วัดต้นแกว๋น) (built 1858) Wat Inthrawat stands in a rural area to the southwest of Chiang Mai. Its crowning attraction is an almost quintessential Lanna-style viharn with impressively carved woodwork. Although constructed in 1858, the Wat is in quite good condition despite (and partially because of) the lack of any recent renovation. Apart from the viharn, another gorgeous structure on site is an open, four-sided mondop that was used as a shelter for the Wat Phra That Si Chom Thong relics as they were carried in to Chiang Mai. The Wat also features a fine cloister that surrounds the viharn on three sides.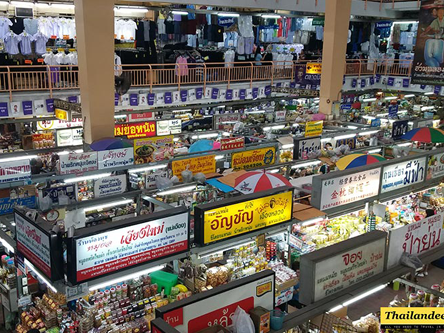 Warorot Market
Among the numerous markets in Chiang Mai, one of the most well known is Warorot Market (ตลาดวโรรส), located right in the center of town. The market is a historical landmark, a long standing market, known for its variety of speciality Chiang Mai food and products. Warorot has an old-school Chinese Thai feel to it (the area is known as Chiang Mai's little Chinatown). The facility is pretty old looking, and that's partly what makes it such a classic market to visit.